Date Night: It's in the bag!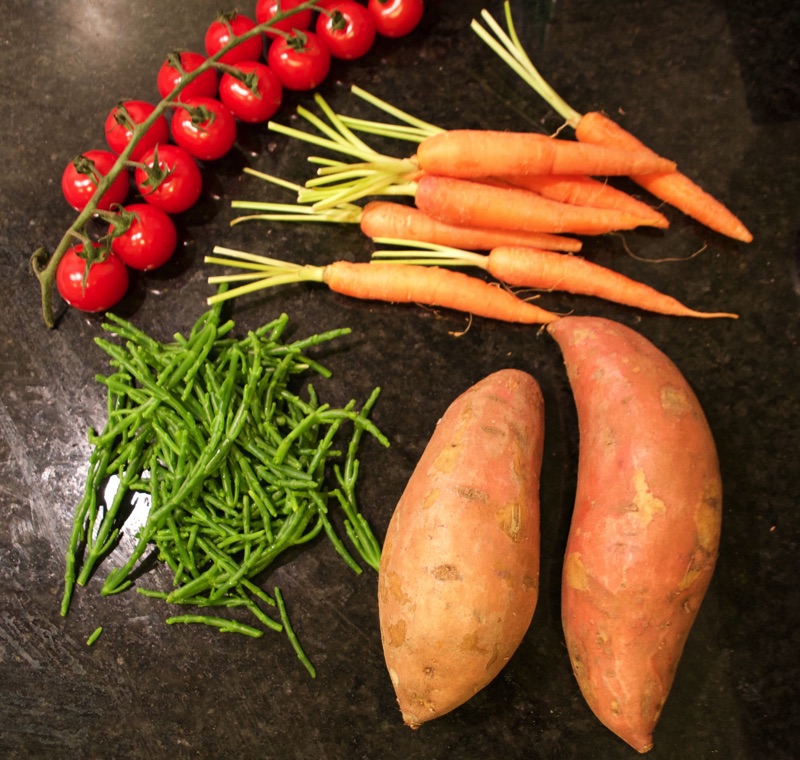 Time is a much valued and finite resource and we all have to prioritise how we spend it. Since the end of the second world war, the food industry has aggressively and exponentially grown: the more processed, opaque and intricate the food chain is, the more profits are made, and apparently the more sated we become as consumers, because they are supplying us just what we need, right?
In these intervening years we have been bombarded by the same messages: convenience is king, and cooking is for losers, especially in a world where gender roles began to blur and both parties work hard in the big wide world. The food industry was quick to exploit this vacuum and created a whole new array of industrialised products, each one further removed from our culinary traditions.
I have recently been a little obsessed by Michael Pollan, having devoured his Netflix series, Cooked (based on his book), and currently reading The Omnivore's Dilemna. He makes some amazing points and is a very inspiring food writer. The above musing is definitely sparked and informed by his work: highly recommended!
The industrialisation of our food chain to convenience food: its abundance, addictiveness and therefore, popularity has meant we all cook less. Indeed, we often consume our processed food whilst watching shows about cooking which we watch more and more of as we cook less and less!
Sadly, around the world, our old traditions are slowly being forgotten as our tastebuds are transformed. Children are growing up with little knowledge of tastes that were previously handed down from generation to generation, and if they don't learn then we might lose them altogether. Thankfully there is a powerful backlash against this, and many of us want to effect real change and stop this cultural erosion, for the sake of our humanity and health.
On this note, I was recently challenged to come up with a easy, yet impressive menu to serve up to a date. I then gave them a lesson to help them cook it.
Fish en papillote with seasonal vegetables and samphire, hasselback sweet potatoes with za'atar. Parsley and fennel seed sauce.
Here's a recipe I have devised which is relatively simple to put together, yet looks very impressive, has an array of flavours and is pretty nutritious too!
En papillote is a fancy french name (literally, in parchment) for cooking ingredients in a parcel with flavourings, a splash of wine and oil. This keeps everything moist, the resultant emulsion creates a lovely sauce, and we get to open a lovely fragrant bundle of joy!
I have taken the Nordic hasselback potato, made it healthier by using sweet potatoes and then mingled those Viking tendencies with za'atar from the East: a blend of sesame, sumac, thyme and other spices. The hasselback potato does really look impressive and the textures of soft yielding root and crispy fanned edges will make you come back for more. Finally the marriage of the sweetness of the potato and the spices is really one made in heaven.
Ingredients
Serves 2
Fish en papillotte
2 large white fish fillets (cod, haddock, seabass, for example)
2 handfuls of samphire
Some seasonal veg (I recommend a couple of different coloured ones e.g. cherry tomatoes and baby carrots, cherry tomatoes and baby courgettes).
Two good sprigs of thyme
3 tablespoons of extra virgin olive oil
2 good splashes of wine
1 lemon
Salt and pepper to taste
Hasselback sweet potatoes
2 small sweet potatoes
50g butter
2 tbsp za'tar (this can be bought in shops: I will post a recipe soon!)
Salt and pepper to taste
Click on the link above for the previous post containing the recipe…
Method
Pre-heat the oven to 200 C.
First prepare the sweet potatoes as they take a long time and we can then work on our fish when they are in the oven.
Take the potatoes and give them a good scrub (with a scourer or wire brush) to remove any dirty and less than pristine bits. You could peel them, but leaving the skin on is tasty and provides valuable nutrition.
Now we want to take these potatoes and 'hassleback-ify' them: we want to cut thin slits across the width of the potatoes about 1/2 to 1 cm apart, as shown in the picture. There are a few points to note in order to achieve this. Firstly, cutting a sliver off the bottom of the potato ensures it can sit on a flat surface, rather than unsteadily on a curved one. Secondly, ensure you have a sharp knife (to make your life easier), and thirdly place chopsticks on either side of the potato, lengthwise. This ensures that when you cut down you don't cut to the bottom, thus leaving the spud intact.
Once the oven is hot, place the spuds in a baking tray and then smear over a little of the butter and za'tar, salt and pepper. Note: initially the uncooked potato is hard to work with. As it cooks it will soften and fan out. Therefore whilst cooking, add more butter, seasoning and za'atar flavour in between the gaps: the easiest way to do this is by melting the butter and brushing it.
Once the potatoes are in, let's turn our attention to the parcels. Season the fish well all over with salt and pepper. Cut two large sheets of foil: remember we will be folding this over and crimping the edges to seal so it needs to be slightly larger than double the parcel size!
Folder over to mark the fold and then add slices of lemon in the middle of one half. Lay the fish fillets on top of both sheets. Now add the vegetables on top, ensuring any woody bits of samphire have been removed. Finally finish off with the thyme and add the oil and wine. We can now fold over and crimp the edges, forming a tight seal to keep the flavour in whilst cooking.
The potatoes should take about an hour, whilst occasionally basting with butter and seasoning, but you should check and make your own decision. When you think you have 20 minutes of cooking to go, add the fish.
At the end of cooking, serve the fish parcels with the potatoes and the fennel and parsley sauce as a side (see my last post!). The parcels should be opened at the table to release the flavours: enjoy!
This recipe can be adjusted: you could miss out the samphire, you could add capers, you could accompany with a salsa verde or even a salsa romesco perhaps. I had a last minute panic when I realised one of my students was vegetarian: you can do what I did and use thick aubergine steaks in place of the fish as a vegetarian alternative (cook them on a griddle pan before adding to the parcel)!
---
---